Stibnite Pipeline and Reservoir, Winter '53-'54
Courtesy of Ron Smith. Photographs taken by his father Lawrence. Ron is a member of the Valley County History Project and a contributor to "Pans, Picks & Shovels/Mining in Valley County, Idaho," published 2012 by the Valley County History Project.
"This line went from the reservoir to the mill hydroplant and was made of metal. At the time the pictures were taken (1954) the line was getting in poor condition." See map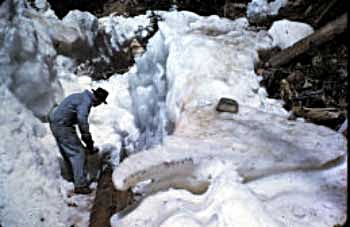 Ben Paine Sr. shoveling snow off line so he could repair it
Stibnite reservoir where the pipe line started; line ran from reservoir to mill
Copyright © 2009 - Sharon McConnel. All Rights Reserved.
Copyright Notice:
All materials contained on these pages are furnished for the free use of those engaged in researching their family origins. Any commercial use or distribution, without the consent of the host/author of these pages is prohibited.
---