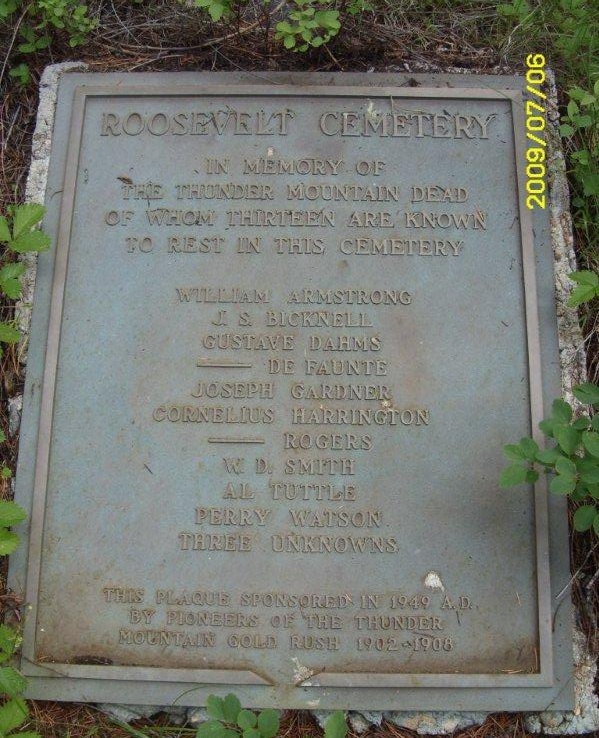 Photographs courtesy of Lori Hunter. Thank you for sharing!
Roosevelt Cemetery In Memory of the Thunder Mountain Dead of whom thirteen are known to rest in this cemetery
William Armstrong
J. S. Bicknell
Gustave Dahms
______ De Faunte
Joseph Gardner
Cornelius Harrington
______ Rogers
W. D. Smith
Al Tuttle
Perry Watson
Three unknowns
This plaque sponsored in 1949 A. D. by Pioneers of the Thunder Mountain Gold Rush 1902-1908
More Markers
Roosevelt Death Notices
Extracted by Penny Casey, Idaho County GenWeb Coordinator.
Updated 25 February 2012
Gustave Dahm
Idaho County Free Press, March 17, 1904
The county auditor received a letter stating that since the snowslide at Thunder Mountain, known as the Henderson slide, it is almost certain that Henderson had a visitor, and to date neither of the bodies have been found. On the 14th of February two prospectors were frightened and left their cabin and started for Roosevelt, one of them returned the following day. On the 16th it was reported that the cabin was gone. Searching parties started out and after making three tunnels in the snow for a considerable distance discovered the body of Gustave Dahm, a German. His funeral was held at Roosevelt the 17th of February.
Lorenzo DeFonte (DeFaunte)
Idaho County Free Press, August 10, 1905
Reported shooting affray at Roosevelt last week proved correct. but instead of Thomas Neighbor it was L.(Lorenzo) DeFonte, an Italian who was killed. He was killed by a man named West over trouble with the latter's wife. West was given a preliminary trial and turned loose.
Idaho County Free Press, August 31, 1905
West Re-Arrested - Will be Brought Here On Charge of Murder
J.E. West, who shot and killed Lorenzo Defonte at Roosevelt, has been again arrested at Mountain Home and the sheriff left Tuesday to bring the prisoner here for trial. At the time of the killing of DeFonte, West was given a hearing at Roosevelt and turned loose, but investigation indicates that the preliminary was conducted by West's friends and the true facts of the case were not brought out.
The trouble arose over a woman who West claimed was his wife but who was rather promiscuous in the bestowal of her affections.
Cornelius "Curly" Harrington
Idaho County Free Press, NOV. 26, 1903 DEATH:
Cornelius "Curly" Harrington, a well known miner of Thunder Mt. died in that camp on the second of this month. Harrington had been employed at the RAinbow mine by C.W. Neff. On the evening of the 2nd, Mr. Neff found Harrington lying dead at the cabin door. Deceased was supposedly a victim of heart disease. He was about 54 years old and a native of Nevada
T. Rogers
The Spokesman Review (Spokane Wash), July 29, 1904
T. Rogers, a contractor in the employ of C.M. DeCamp, is dead of mountain fever, July 25, 1904
Al Tuttle
Idaho County Free Press, October 29, 1903 DEATH:
Al Tuttle, who was deputy mining recorder at Roosevelt died at that place on October 7th.
Perry Watson
Idaho County Free Press, February 14, 1907
Killed in Snowslide - Perry Watson Caught in Rush of Snow Near Roosevelt The following telegram was received at the sheriff's office the first of the week: "Knott, Idaho February 11, 1907; To Sheriff, Grangeville; Perry Watson killed in snowslide 21 miles south of Roosevelt. Please inform Tom Watson and other relatives... J.A. Gardner"
From local parties it is learned that Perry Watson was a brother of Tom Watson, who lives over across Salmon River. Perry Watson was a miner and owned some valuable property in the vicinity where his life was lost. It is supposed that he was at work on this property when the slide occurred. News concerning the particulars of his death, other than contained in above message could not be learned. Watson was well known in Roosevelt and surrounding camps.
Copyright © 2009 - Sharon McConnel. All Rights Reserved.
---