Billy Kline grave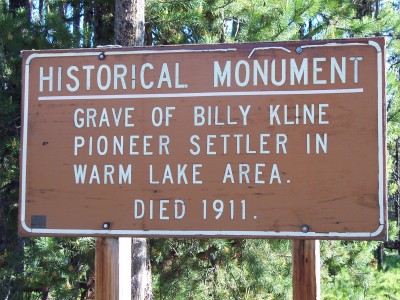 Historical Monument
Grave of Billy Kline
pioneer settler in
Warm Lake Area.
Died 1911.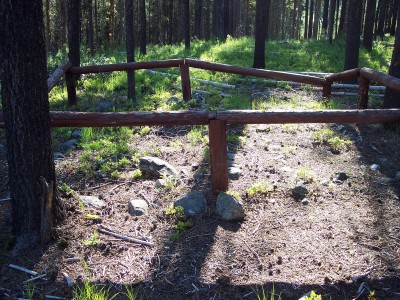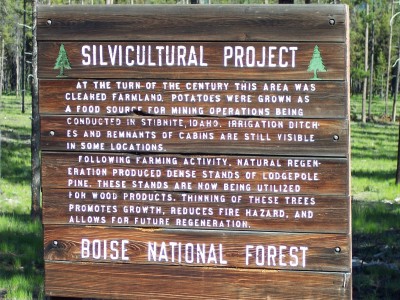 ---
Nov. 3, 1910 An "Emmett Examiner" article this date states, " A message was received last evening that C. A. (Arthur) Cline (Billy Kline on USFS sign at Warm Lake) was found dead on the streets of Knox yesterday."
Arthur Cline was his legal name on the 1905 homestead applications with the USFS. His grave is north of the junction of the Warm Lake Highway and Stolle Meadows road. He had farmed the area by raising potatoes and hay. Irrigation water was obtained from a ditch that carried water from Warm Lake (at beach area to his farm). He did not complete the requirements to qualify for a homestead (USFS). Kline Mountain west of Warm Lake was named after him. He raised potatoes for sale to the miners on about 20 acres. The 1910 census of the Roosevelt precinct gives his age as 51 so he was born in 1859. Retired Ranger Val Simpson says Cline had been badly injured in a blasting accident at Thunder Mountain.
From the Idaho World weekly newspaper at Idaho City on July 15, 1910 is the following article "Blown Out Of Tunnel, Report comes from Crawford that a Mr. Cline was brought in there from a hundred miles out in the mountains the other side of Knox pretty badly shot up. He was running a tunnel and was in 25 feet. He put in three shots of dynamite and two of them worked all right. He went to see what was the matter with the third and just as he reached the breast of the tunnel the last shot exploded, blowing Mr. Cline clear out of the hole. He was badly cut about the face, head and body and a number of stitches were necessary to sew him together again, but the doctor has hopes he will recover. Owing to the phone lines being down we were unable to get further details." He died 3.5 months after the blasting accident.
Copyright © 2009 - Sharon McConnel. All Rights Reserved.
---