Payette Lake Inn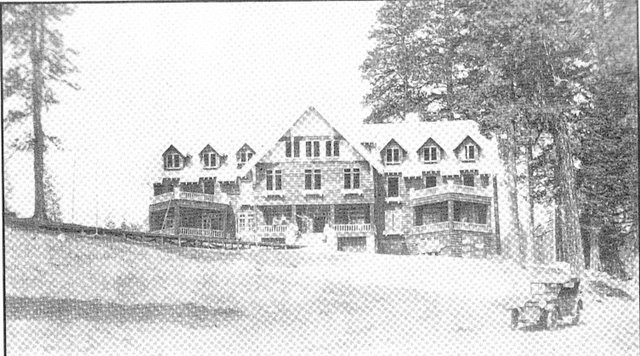 (Courtesy of Nancy Brown Tomlin; private collection)
Located at 1585 Warren Wagon Road just north of McCall, the 15,689 square foot inn, was built in 1914.
"The Payette Lakes Inn built in 1914 by Fenton C. Cottingham, was located on the stage road overlooking Payette lake. The chalet-style Inn featured dormers white railed balconies, flower boxes, 3 big fireplaces, 50 rooms, a sun parlor, and a 300-foot esplanade connecting with the lake. It was a very large establishment for dancing and dining in 1914 and is a significant part of the history of recreation in McCall. During the summer of 1939, the cast and crew filming Northwest Passage stayed at the inn." - Idaho Heritage Trust, facebook
See also Yellow Pine Times, history section.
Idaho GenWeb Archives - Valley County
Sharon McConnel, County Coordinator
Copyright © 2009 - Sharon McConnel. All Rights Reserved.
The IDGenWeb Project is a genealogical and resource collection for the state of Idaho and its counties.
---