Smokejumpers
By Connie Rea
This page is a memorial to all the smokejumpers past and present.
My father, Lonnie "Curlee" Rea lived in McCall for quite a few years in the 40's & 50's, where I was born. Curlee went to work for the US Forest Service as a Smoke Jumper at McCall from 1946-1949 following his service in the 11th Air borne Paratrooper Infantry in WWII. The photo below is of Dad after he parachuted into a beautiful Valley County meadow, possibly above the base in the late 40's. -- Connie Rea (Curlee's Obit and photo)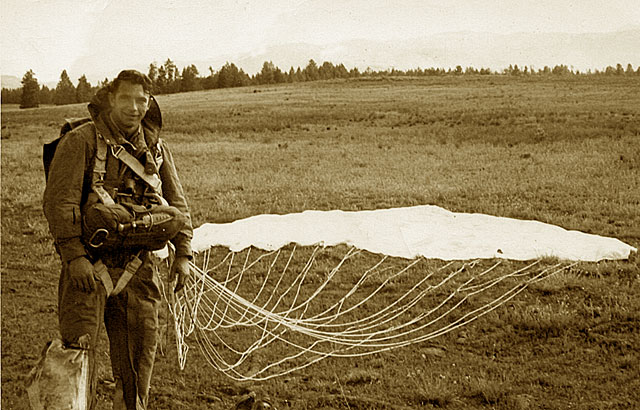 (Click on Photo to enlarge)
McCall Smoke Jumpers Obituary online
at National Smokejumper Association List compiled & submitted by Connie Rea

Jim Abate

Richard M. Bradshaw

Leo Keith Brown

Edward T. Case

Doug G. Certain

Ronald E Dunn

Guy E. Edward

John Ferguson

Jerry Hofer

Allen Graham

Miles L. Johnson

Louie Larranaga

John L. Tex Lewis

Lester Lycklama

James B. McGee

Roger McPike

Spence Miller

Frank L. Odom

Jesse L. Rainey

John G. Roberts

Lonnie Curlee Rea

Robert E. Reed

John E. Rinard

Dave Schas

Barnard St Clair

Wayne R. Webb

William V. Wallace

John M. Wilcock

Paul F. Wilde

Cornelius Vogt

Donald A. Voorhees
Copyright Notice:
All materials contained on these pages are furnished for the free use of those engaged in researching their family origins. Any commercial use or distribution, without the consent of the host/author of these pages is prohibited.
Copyright © 2009 - Sharon McConnel. All Rights Reserved.
---