Cutting Ice at the Ice Hole on Johnson Creek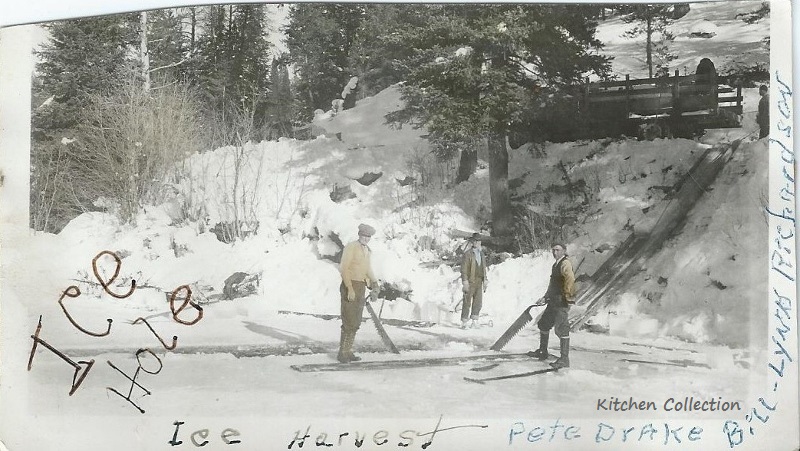 (south of Yellow Pine - photo courtesy of Kirt Kitchen)
"Pete Drake, Bill and Lynn Richardson and unknown at top of bank. Harry Withers took the picture. Ice was hauled to town and buried in sawdust in sawdust-walled storage buildings for summer use. One ice house was behind Murph Earl's Bar, the other up at the lodge on the hill (Call's, later owned by Murph Earl) and the other at the Carpenter Ranch, (Eigurens').
When I was young out in Long Valley I used to ride the ice wagon driven by Dr. Hurd (veterinarian who lived by Old Crawford). He took ice out of sawdust and had a delivery route around Cascade. I remember well the ice went below back porches in trap doors - one reward was a 'swig' Dr. Hurd took out of the moonshine bottle also stored there. Dr. Hurd was accidentally shot by Les Whitson (drug store) in a hunting accident." --- Carl K. Kitchen, 26 September 1983
Idaho GenWeb Archives - Valley County Corrections or additions Sharon McConnel, County Coordinator
Copyright © 2009 - Sharon McConnel. All Rights Reserved.
The IDGenWeb Project is a genealogical and resource collection for the state of Idaho and its counties. It was created and it is maintained by volunteers.
---