Carlsons' 1911 High Valley Stage Stop
(route between Emmett and Cascade)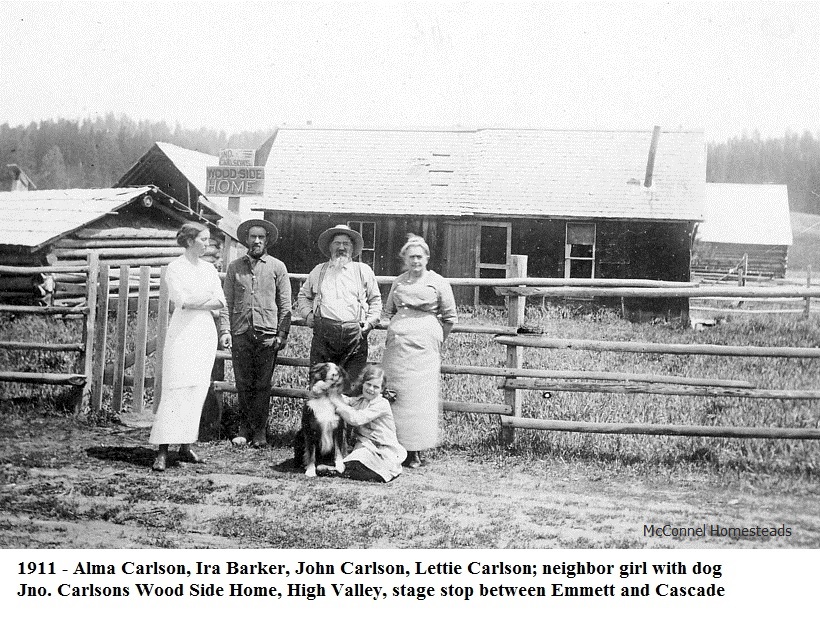 Gratia Bacon Matthews, "Round Valley, My Home in Covered Wagon Days,"p. 61: Our trips below, usually in the spring and fall, to get groceries and supplies, were pleasure trips for us children. We looked forward to seeing our relativds in Middleton and to going to Caldwell stores. . . If there was a big load to bring in, my father drove a large covered lumber wagon with four strong mules. My mother would drive a lighter covered wagon with a team of horses. At other times, if we didn't need so much, we all road in the big lumber wagon drawn by the mules. My mother would bake bread and always sugar cookies to start out with. The cookies she tied up in a flour sack and hung on the bow of the covered wagon. . . . We would hardly get to Tri-pod Creek, past Smith's Ferry and that sack of sugar cookies began to speak to our stomachs. .. . If we got a late start, we would camp in the upper end of High Valley where there was a good, clean stream of water. Papa would buy a bale or two of hay for the mules from Mr. Carlson, the rancher across the road. . . The next day a real early start let us drive down the Squaw Creek Hill road to the Holbrook ranch through Rocky Flat, past the Jimmy Hawes place, past the Liberty Mine, down to Sweet. Before dark we would camp on the bank of the Payette River at the Marsh Ireton ranch. . . The last day we drove past the Box Springs and on down Willow Creek to Uncle Judd and Aunt Florence Chipp's farm, just two and one-half mile north of Middleton.
see McConnel Homesteads for Carlson story
See Ted Carr Stage from Emmett to Ola and Cascade for photo of stage
Copyright © 2009 - Sharon McConnel. All Rights Reserved.
Copyright Notice:
All materials contained on these pages are furnished for the free use of those engaged in researching their family origins. Any commercial use or distribution, without the consent of the host/author of these pages is prohibited.
---