Smith Children with Napier Edwards wagon, Edwardsburg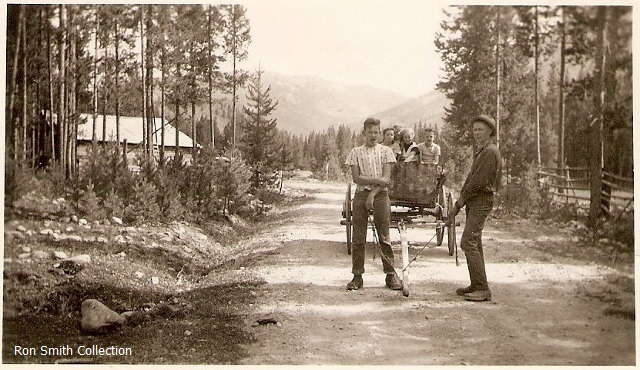 (click image to enlarge)
The Lawrence and Paul Smith kids from Stibnite playing with Napier Edwards wagon at Edwardsburg. The Passengers are: (L to R) Patty, Karen, Lorene and Gary Smith. The two 'critters' doing the pulling are Ron on the left and cousin Tim on right -1948
"Nape Edward's wagon is what they used to call a 'Hack,' a light, get-there-quick-type of wagon, sort of a poor man's buggy." - Ron Smith.
(photo courtesy of Ron Smith)
Copyright © 2009 - Sharon McConnel. All Rights Reserved.
Copyright Notice:
All materials contained on these pages are furnished for the free use of those engaged in researching their family origins. Any commercial use or distribution, without the consent of the host/author of these pages is prohibited.
---