Lafe Cox and Al Hennesy, headed for Buck Creek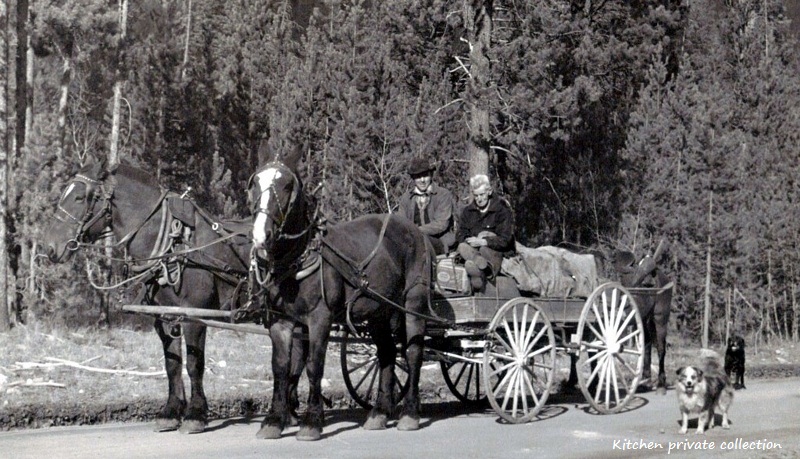 (Photograph, courtesy of Kirt Kitchen)
Lafe Cox (1914-2002) moved, with his parents Clark and Beulah Cox, to a ranch on Johnson Creek in 1927 where the family built a lodge known as the Cox Dude Ranch. In 1943 Lafe and his wife Emma Petersen Cox purchased the dude ranch from his parents. For the story about Lafe's and Emma's life on Johnson Creek and the Cox Dude Ranch, see Idaho Mountains, our home/life in Idaho's backcountry.
Al Hennesy (1875-1956) arrived in the Yellow Pine Basin sometime around 1900. He homesteaded on Johnson Creek, present-day Bryant Ranch and Landing Strip. He built roads. He mined. He was the original discoverer of Stibnite.
Buck Creek by Sharon McConnel
At the head of Buck Creek, south of Trapper Flat, stands a cabin with a sign that reads:
Work Done 1980, 1981
Claims acquired from previous owners, Les Curtis and Herman Banks
John Hibnes,. . . .

In September of 1996 I phoned John Hibnes and this is his story:

I was a teenager in the '50's - that'll give you some idea as to my age. I worked for Jack Walker at the Wardenhoff Mine for 10 years. That's how I got to know Les Curtis, who lived in Yellow Pine at the time and was in his 70's. That's also how I met my wife Rose.

Rose packed the mail from Yellow Pine to Big Creek for four years. She lived in Yellow Pine in the white house that Gillihans owned in the curve and then later in a house north and east of Yellow Pine in a meadow. Her first husband Ron Horner had worked for Gillihan and was going to buy old John out. When that blew up, they went over on the Salmon River, where he died. She carried on with the packstring until she sold it to some hunters from California. Her base camp was at Meyers Cove.

Anyway, back to Buck Creek - Hennesy's cabin is about 1/4 mile down the upper road and on a hill, not across the ford the way you went to my old cabin. There are two cabins on Hennesy's claim. I think maybe Hennesy died1 there or something because everytime I've spent the night there something weird has happened.

One night I was awakened by someone knocking on the door, but when I got up to check no one was there. Another time I left the horse trailer down on Johnson Creek, at Twin Bridges, and led the horses in, behind the pickup. There's a little corral at the cabin that will hold gentle horses and I put them in there. I was awakened in the night to the sound of horses galloping on rock. Fearing that they had gone back to the trailer, I got up to check only to find them peacefully in the corral. If something weird is going to happen, it always happens the first night. I think it's funny, but any hunters I've taken in there refuse to go back.

According to Les Curtis the hole showed good color at 80 feet. When I staked the claim, I came across some old claim stakes of Lafe Cox's. I traded the claim to Lee Barryman in Nampa for two, custom made saddles. I haven't been up there for years, but I ought to go - I've got a string of horses that need to sweat. . .
1According to Ernest Olberbillig's article, Two Funerals for Al Hennesy, True West, October 1976, Al died in the Norton's Convalesent Home in Weiser September 1956 and was buried in Riverside Cemetery on the Oregon Side. A search at findagrave shows his grave to be in Fairview Cemetery, on the east side of the Weiser Spur of Highway 95.
Additional Reading
Cox, Lafe and Emma. -- Idaho Mountains, our home/life in Idaho's backcountry. Bookcrafters, Inc., 1997. This book is about Lafe's and Emma's life on Johnson Creek and the Cox Dude Ranch.
Sumner, Nancy G. -- Yellow Pine, Idaho (printed privately)
Valley County History Project. Pan, Picks and Shovels. Stories gathered by the Valley County History Project.
Copyright © 2009 - Sharon McConnel. All Rights Reserved.
---