First Ford into Yellow Pine 1922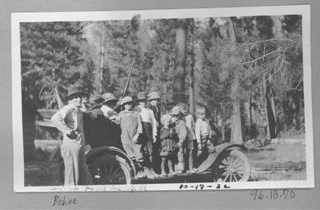 click image to enlarge
First Ford into Yellow Pine 1922. Mr Behne standing at back of car. Courtesy of Long Valley Preservation Society of Idaho (Bryant collection), via Ron Smith.
Idaho GenWeb Archives - Valley County
Sharon McConnel, County Coordinator
Copyright © 2009 - Sharon McConnel. All Rights Reserved.
The IDGenWeb Project is a genealogical and resource collection for the state of Idaho and its counties.
---